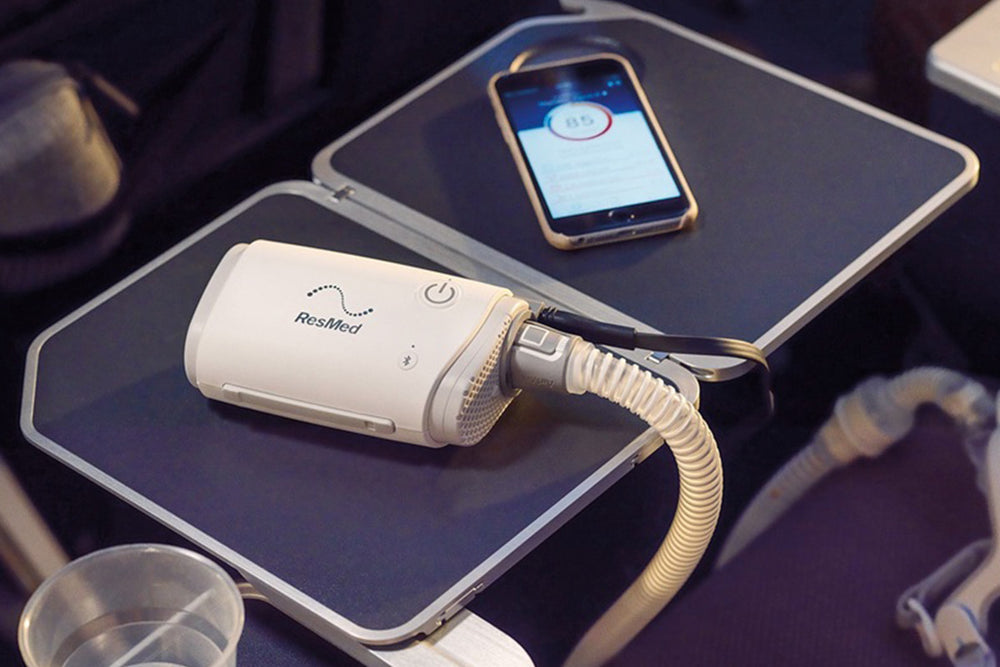 ResMed AirMini Travel CPAP Machine Features and Review
ResMed AirMini is the world's smallest and most portable machine for CPAP therapy. ResMed AirMini travel CPAP machine has a dimension of 5.4 x 3.3 x 2.0 inches, and weighing a mere 10.6 oz. The AirMini has been designed not only for functionality but for portability as well.
This mini machine has been patterned after the standard AirSense 10 Auto CPAP machine, offering features such as AutoRamp™, Bluetooth™ connectivity, Expiratory Pressure Relief (EPR), and Smart Start  technology. An innovative feature is the waterless humidification for quality, quick and hassle-free therapy anytime, anywhere.
Auto Ramp™ detects when a patient is asleep and then easily and gradually increases the CPAP machine's pressure in increments of 5 minutes for the next 30 minutes to the prescribed, effective level.  The BlueTooth™ facilitates the wireless connection between the AirMini and the AirMini application, which when downloaded allows the patient to remotely operate the AirMini machine using the application. The application also stores and displays a 30-day history of the patient's AHI statistics and sleep score for easy monitoring of his therapy's progress.
Expiratory Pressure Relief makes it possible to maintain the lowest pressure possible to reduce pressure during exhalation and prevent apneas during inhalation. Reduced pressure during the exhalation period assures a more comfortable and natural therapy experience. SmartStart™ feature makes it possible to start the therapy by the patient breathing in. There is no need to press the start button.
An added feature is the ActiveAir™ which controls the airflow while the pressure is being increased. Through this feature, the sound level of the CPAP is in a comfortable level.  At only 30 decibels, the AirMini is not only the smallest CPAP machine available. It is also the quietest.
The HumidX is another convenient feature of the ResMed AirMini.  It is a disposable, waterless, humidifier that is about the diameter of 25 US cents. To improve and maintain comfortable moisture levels without the use of a full humidifier, the AirMini's pod, located in the mask tubing, is embedded with circular bands of materials.   Replacement is required within 30 days of opening the package for optimum efficiency.
Components of ResMed AirMini
The ResMed AirMini CPAP machine is comprised of 3 parts namely:
AirMini CPAP – The machine itself is highly portable and very light. It is about the size of a smart phone. Wattage required to power this device is only 20 watts.
Set-up Pack – This set consist of mask connector, tubing, and HumidX.
Mask - There are few masks configured for the AirMini . These are the P10 and N30 nasal pillow mask, N20 nasal mask, the F20/F20 Airtouch full face mask and the F30 full face mask.
Since the ResMed AirMini is a travel CPAP it naturally meets FAA airport requirements so using it while on the plane is allowed.
To order and for more information, call us at 1300 750 005.