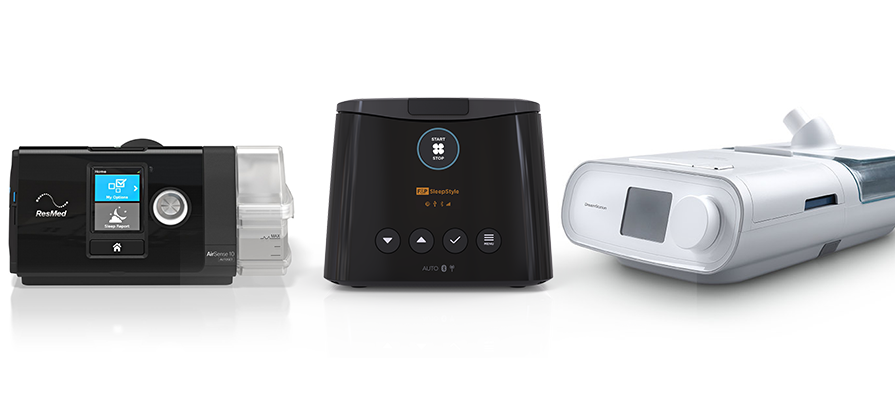 CPAP Brands: ResMed, Philips Respironics, Fisher & Paykel
There are various manufacturers of CPAP machines available to OSA patients. Each brand has served millions of OSA patients worldwide and continues to improve their products for the benefit of OSA patients. Three of the most prominent brands in the manufacture of CPAP machines are ResMed, Philips Respironics, and Fisher & Paykel.
ResMed
Founded in 1989 in Australia by Peter C. Farrell, ResMed's main thrust was to design, manufacture and make available to the public a device for the control and/or treatment of sleep-disordered breathing. Its primary emphasis was to commercialise a Continuous Positive Airway Pressure (CPAP) machine. The company expanded exponentially and today operates in over 100 countries. Aside from Australia, the company has manufacturing plants in France, the United States and Singapore, directly hiring over 4,000 employees worldwide.
In 2009, ResMed went into partnership with Johnson & Johnson's LifeScan. Together, the partners are working to increase awareness of obstructive sleep apnoea with people diagnosed with type 2 diabetes. ResMed also puts emphasis on the co morbidities such as obesity, stroke and cardiovascular diseases linked to untreated OSA and other sleep disorders.
ResMed OSA products are classified under devices, masks, humidifiers and accessories. Under CPAP machines are: AirSense™ 10 Elite; S9 Elite™ and S9 Escape™. Under AutoSet™ APAP devices are Airsense™10 AutoSet™, AirSense™10 AutoSet™ for Her, S9 AutoSet™ with H5i humidifier and S9 Escape Auto™.
Philips Respironics
Respironics was founded in 1976 by Don Spence in Pennsylvania, USA for the purpose of manufacturing anesthesia masks, tracheostomy and endotrachial products. In 1985, Respironics introduced the very first CPAP machine for the management and treatment of sleep apnoea. In 1992, the company patented the bi-level technology, intended for the improvement of CPAP. In the process, the bi-level technology was used for the treatment/management of other breathing disorders such as COPD (chronic obstructive pulmonary disease).
In 2008, Philips acquired Respironics. Today the company is a leading manufacturer of medical devices such as CPAP and BiPAP machines, infant apneas monitors for SIDS-risk infants, oxygen concentrators, hospital ventilators and solutions for the treatment of asthma.
Philips Respironics line of products includes devices, masks and accessories. Under devices are CPAP and BiPAP machines branded as System One. The list of products is quite extensive. Here is a list of Philips Respironics products: PR System One REMstar CPAP Machine and Humidifier; PR System One REMstar Pro C-Flex+ CPAP; Respironics System One REMstar SE CPAP with Humidifier; Respironics System One REMstar SE CPAP with Heated Tube and Humidifier; Respironics System One REMstar Plus CPAP and PR System One REMstar CPAP Machine.
Fisher & Paykel Healthcare
Fisher & Paykel Healthcare is the sister company of the 1934 Fisher & Paykel Appliance Holdings Ltd. Established in 2001 by Maurice Paykel and Sir Woolf Fisher in New Zealand, the company is in the manufacture of CPAP machines, respiratory humidifiers and neonatal care products.
Fisher & Paykel started out as an importer of refrigerators, radios and washing machines. In 1938 it entered into agreement with Kelvinator and in the 1950s started manufacturing products using its own technology. In the 1960s, F&P branched out in the healthcare industry with its prototype respiratory humidifier for ICU patients. In 2001, the healthcare division was established as a separate entity as it pursued the manufacture and innovation of its line of healthcare products.
CPAP devices from Fisher & Paykel are: F&P ICON™+ FAMILY including F&P ICON™ +Auto, F&P ICON™ + Premo and F&P ICON™ + Novo.
All the products mentioned are available at CPAP Victoria's website. Check us out now.