SKU: 31960‐1210, 29490, 29045 PACKAGE
Prisma Smart MAX by Lowenstein with Mask Package
German designed and made giving you high quality, long lasting CPAP therapy.
This is a high end device that has been designed with an algorithm to work with your airway for comfort , it will treat the partial obstruction with minimal fluctuation, greater sensitivity & more proactively before it can turn into a full obstruction. Therefore less disturbances to your sleep.
More Info
Features
Heated Tube
App Compatbile

Compatible with all mask brands
Details
With prisma SMART max, we offer modern, reliable APAP therapy featuring integrated connectivity, precise event detection and a high level of patient comfort.
Equipped with an integrated modem, the max also offer the complete telemedical prisma CLOUD connection.
Included in the box:
Prisma Smart Max Pump
Prisma Smart Max Humidifier
Heated and Unheated hoses
5 year Warranty
The most important features at a glance: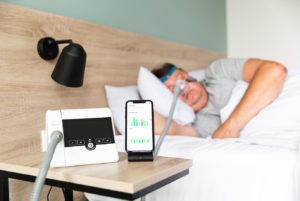 Two dynamic options for pressure adjustment in APAP mode
Deep sleep indicator prisma RECOVER for evaluation of sleep quality
Several convenience functions such as autoSTART, softSTART, pressure relief softPAP
Detection of periodic breathing, RERA, snoring, hypopnea, apnea and flow limitations
Reliable differentiation of obstructive apnea from central apnea, thanks to FOT (Forced Osciallatory Technique)
Extensive range of prisma accessories
Diverse interfaces (SD, PSG, LAN, internal Bluetooth, internal modem)
For 22 mm and 15 mm breathing tube systems
Unheard-of silence
Reviews
How to order
Add the products you would like to purchase into your cart, then please proceed to checkout. You will receive a confirmation email when payment has been received. If your products needs proof of therapy please email the information to info@cpapvictoria as soon as possible so that we can set up your new device and send it as soon as possible.
s9-disposable-standard-filters-12pk|purdoux-cpap-mask-wipes-canister
Prisma Smart MAX by Lowenstein with Mask Package